Thursday, November 30, 2006
Turn the Page
I read so many different books this month (November), I just had to share. I'm missing one in here, but dear God if I can remember it. (I swear, I'm suffering from menopausal memory loss ... all at 36. Pray for me.)


I finished The Count of Monte Cristo by Alexandre Dumas, which was recommended by LL and Mr. Schprock. Published in 1844 and about 1,400 pages, this is no lightweight read. Most everyone who reads it tends to love the deception, debauchery, and revenge, which lead to a surprise "aha moment" ending, but I didn't. I'm not sure why. I think most people read the abridged version because this book took me most of October and the beginning of November for me to complete. While it is a classic novel so usually worth the trip, I just found it a bit long, a bit cumbersome, and only really compelling in certain spots. I've never been a fan of French novelists though ... so I'll blame it on that.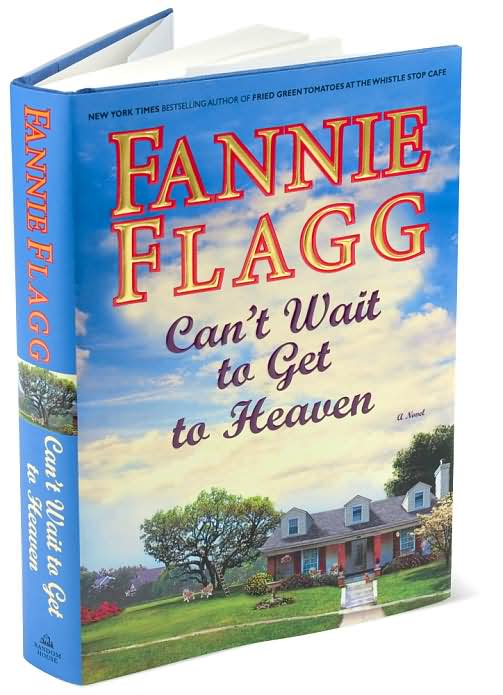 I then moved on to a lighter, funnier, and modern novel (out in 2006) by the beloved Fannie Flagg (Fried Green Tomatoes at the Whistlestop Cafe author) titled Can't Wait to Get Heaven. This IS a lightweight read and a bit farfetched, but it's definitely a palate cleanser from the hard stuff. Also, it's a fast read, which can be a bit nice as well.


A friend sent me a book during this time -- Dragonwyck by Anya Seton. I thought, 'Oh no, not fantasy! Not dragons! Not modern drivel,' but was pleasantly surprised at a novel first published in 1944 (100 years after my first read -- The Count ...), but that's set in 1844, the publishing date of my first finished read. Coincidence? This is a romance novel without the cheesy romance and heaving chests, which is a good thing for my literary tastes. Based along the Hudson river, the setting is right in my own backyard so I enjoyed reading the names and towns of cities I know well. Definitely a nice book with a classical flavor.


I thought November would end with the end of the A Series of Unfortunate Events, The End by Lemony Snicket. I began reading this series and fell in love with the author's cheeky style ... a style I haven't seen in literature for children or adults before or since. Every book in the series has a disclaimer of the tragedy inside, the author tells you to put it down, put it away, walk away from it, and it worked ... kids loved it so much, it became a movie, BUT (and yes, it's a big BUT) I should have heeded the warning with this last book because I was sorely disappointed. All the questions I had concerning the orphans, their friends, V.F.D., and the family have gone ... UNANSWERED. Not cool, Mr. Snicket, not cool. I only hope he apologizes with a fourteenth book written to say, "Oh, I forgot to mention ..."


November still here and disappointment of the previously mentioned book lingering in the air, pushed me through a couple of magazines and onto Eragon by Christopher Paolini. Unless you live under a rock, you've heard of this fantasy and oh God dragon tale, but I want to see what the hype is about. I'm only in the beginning of the story now so will reserve all comments until it is complete.

Happy holidays and joyous reading to all!
Friday, November 24, 2006
I'm Scheming of a Black Friday
Three days ago, the Wal-Mart flyer for Black Friday was in my mailbox. I told myself no matter what I saw, I wouldn't be part of the fiasco this year. Flip through page one, good so far. Flip to page two, 'OH GOD! 20" flat-screen TVs ONLY $68!!!' I dropped the paper and said to the family, "I couldn't get these for under $150 apiece! I don't know though. 5am. I mean, 5am is early. It's still dark out. $68.00 flat-screens. That's a once-in-a-lifetime bargain. OK, it seems reasonable. Any takers for Black Friday?" To my surprise, both my 12-year old son and 13-year old daughter were up for the challenge. Of course, I should mention, they would be the beneficiaries of these televisions and they knew it.

Two days ago, I did a chemical peel to my face. The same night as my first wave of Thanksgiving cooking blitz. I mention this only because the gentle fruit peel actually took off layers of skin. I don't have wrinkles, but I wanted a brighter, more youthful complexion. Instead, I turned out looking like I just walked out of a bad date with Mike Tyson. Don't worry, this is normal for this type of peel. However, each day, I looked worse instead of better. After a hard day of Thanksgiving cooking and making a beautiful centerpiece, my face was indeed the main attraction. Anyhow, back to Black Friday, but you'll thank me for this tidbit later on in the story.

The children and I began planning our "attack." My son even called the big day 'Battle Royale.' Since my sister works at Wal-Mart in a nearby town, I asked for her advice. I admit, her advice scared me a bit, "Show up at 3am. Be careful about being tripped from behind. Have one child grab the cart. Have fastest child locate two televisions and sit on them. Try to carefully pull off anyone who is trying to maul child when you finally locate him/her." Hmmm, could this be true?

I decided to run this past the Battle Royale Crew and received this in reply from my daughter, "Your sister sounds like she's just exaggerating. This is just Wal-Mart. She made that stuff up as she went along." Yeah, okay, sounds reasonable, sounds believable.

OK, what's the game plan then? Daughter, son, and I enter store. Son grabs cart. Daughter who happens to be track team champ runs to television sets. Mom tries to keep up with hobbling type of racewalk. If we get shoved, we do not shove back. If we encounter negativity, we smile in return. We will NOT lose our Christmas spirit! If anyone hurts kids, I will take care of it. Call Daddy to make bail. Laughter all around. Hurrah!

The night before we run through the drill again. We all turn in early except for son who is now too nervous to sleep. Demon daughter falls right to sleep, of course. I stay up, reading last installment of Lemony Snicket series and stay up a bit more pondering the end of the Lemony Snicket series. An end to The End of the end of the Baudelaire Orphans. I didn't really like it at all.

It's official. I can't sleep. At about 1am, I fall into a deep trance only to have nightmares about going to Wal-Mart and coming upon an empty spot where televisions once sat. This is the second night in a row I've had these dreams, except the one before included some type of genetically altered chimpanzee/ape who wanted to beat the snot out of me. 2 am, I lay there and look at red time on the alarm clock.

4:00am I begin to drift, 4:25 Battle Royale Fanfare plays on my cell phone. I jump out of bed, dress, go to the bathroom, brush hair, open daughter's room, flip on light, and say in a somber tone, "It's time." As I turn to go into son's room, I can hear my daughter get dressed in about 5 seconds flat. I flip on son's light and say, "Dude, Battle Royale." He takes his head out from under the covers and looks at me as if I've just lost my mind. Then it clicks and an excited, "OH," has him flying out of bed and into clothes.

Within three minutes, chewing our Dentyne gum, we are all in the truck ready to go. Oh, we're having a ball. We're laughing and joking. Cars pass us and my daughter says, "They're going to Wal-Mart." Ahahaha. "Run 'em off the road, Mom," son retorts. More laughter. "Mom, just pull your hair away from your face. They'll see the sores, think you're a meth-whore, and run away screaming." Ah, the joys of children. Does life get better than this?

Then we see it ... the Wal-Mart parking lot, the cop car, the ambulance (with lights flashing), and last but certainly not least, the line. The line, which goes so far down the sidewalk, I estimate there are about three hundred people in front of us. "Oh my God," I utter while the kids suddenly realize they're aunt might not have been playing.

We jump out of the car and as if on instinct, begin almost running to the back of the line. Groups of others have the same idea, but we make it there first. People around us are smoking in line. Smoking at 4:30am! I'm a smoker, I understand addiction, but this early? That's serious addiction. Since I don't allow smoke in my home or around the children, I kind of shrug at the kids and say, "It shouldn't be much longer."

Whomever gave the advice to wear a light coat on Black Friday should be shot. My children were smart enough to wear their winter coats. I was donning a yoga jacket. One ply cotton. It was in the lower 30's. I had a good 24 minutes to just freeze in a line of smoking, huffing, and puffing. I can't blame huffing and puffing on the smokers, however, everyone in the line was in a collective bad mood. Tryptophan freebasers. Case in point, the ambulance was there to take an elderly woman to the hospital who had slipped on ice in the line. People were thankful she and her family's absence bumped them up a few notches. That's the spirit!

Apparently, no one gave the memo to latecomers because a second line started forming in front of the store. The front of the appropriate line (the line I was in) became outraged. Shouts, pushing, shoving, and God knows what else occurred until the cops moved in and instead of holding back the "illegal" second line, let them through first at 5am. I now know the meaning of berserk. Someone screamed, "Come on, people, all together now - No butters! No butters!" Since "butters" is not an actual word, the chant didn't catch on.

The line is moving. If you've ever seen deadly wildlife on a hunt, you know this picture. Mayhem.

Upon entering I turn to my son and point, "Cart." He stood looking blankly at me. 'He's shocked,' I thought. Daughter, who is now second in command yells, "Hey, get the cart!" Wal-Mart employee shoves one at us. There isn't enough room to turn around, turn to the left, the right, or even scratch your butt, if you're so inclined.

I yell at daughter, "Run like the wind!" Daughter now staring blankly at me. "Cut through clothes. Forget the main aisle," I yell again. We both make our way through at the exact moment when the last flat-screened television is being taken away. A disgruntled man yells, "Jesus, this is ridiculous," and a Wal-Mart employee quietly says in return, "We have more at the back of the store."

I shout to my daughter, "Did you hear that? Run! Don't stop until you find them. Grab two." I've officially lost my mind and the Christmas spirit. I know this because a woman who rammed into me made the mistake of doing it a second time (within 3 seconds) to my daughter, which prompted me to scream at her, "Hey, Lady, you watch where you're going! My daughter's half the size of you!" The lady now embarrassed says, "I'm sorry" a few times, to which I reply, "Just watch it!" It pays to have "crackpipe face," I think. I look freaky as hell and mean to boot.

Daughter is now on the move. Like a gazelle she weaves through the impossible herds. I can see her ahead. She's almost there and then ... then ... she STOPS! I yell, "Don't stop! Keep going." She yells back, "They're not up here." I shout in return, "Yes, they are, but you have to keep going. Don't look back. Claim two!" I can see it in her eyes. Fear, trepidation, mild panic, so I do what any loving mother would do, I get around people by saying, "My daughter and I were separated." (slight lie) I point my finger ahead, showing her to keep on going with me behind, and then I see it -- the booty, the second stash of flat-screens. $68 flat-screens surrounded by a sea of their $200 counterparts. I yell to her, "It's right there, grab them," but they are too heavy for her. "It's okay, just drag it off and sit on them," I yell. Others are spotting them and making their descent. I swear, it looks like vultures in desert on a fresh kill. I reach out, grab one, my daughter pulls hers to me, and we wait, we sigh, we even laugh. The last one gets pulled away within milli-seconds.

But where is my son? The store is officially cart to cart traffic. Our cart is still with my son. We wait five minutes, five minutes more, and then I begin to panic. The exhilaration of the hunt is wearing off and "I'm not with my son at 5:20am in the morning" kicks in. I tell my daughter, "Let's push these as best we can to the front." We do. We marvel at others who have these, but are carrying them. How? The box is so enormous and heavy, but we continue our bent over travels.

Along the way, people actually try to get my daughter's TV from us. At each "resting point," someone invariably asks if I'm buying BOTH of them. If both of them are for ME, as if I've just committed a cardinal sin. One woman actually says to me, "There should have been a limit." A woman who has stuffed about eight mini-DVD players into her cart has the nerve to discuss limits. I can't help, but look at them, and to my surprise she says, "Yes, I know. I am saying this while my cart is full of more than one of an item." I said, "No, no, I believe in limits. That's why I have a television and my daughter has another. One to a customer, right?" She actually doesn't look me in the face again. She looks horrified and rightly so. I feel like the most ethical person on the planet until I realize, I've pushed my hair out of my face and have now shown woman my crackling, beaten, peeling flesh. My God, in these lights, I must look like Freddy Krueger.

At the front, I decide to pay for both televisions, put them safely into nook of register while daughter stays with them, receipt, and Wal-Mart employee. As best as I can, I try to make my way through the crowd. I find it helpful to actually show my face to people. Instead of touching me, they let me through. Halfway through the store I say, "I'll put out a Code Adam if I don't see him," and then, there he is ... in the TOY SECTION. Did he stick to the main loop as promised? Nope, not at all. I was immediately relieved and angered all at once. I point at him and growl, "You get over here right now!" He has that, 'oh boy, I'm in for it look' on his face.

But we survived. We celebrated over breakfast sandwiches and OJ at McDonald's, famished from the hunt. We began to recall our big mistakes -- son should have had cell phone, we should have had planned meeting point (pharmacy, which is dead as a doornail during Black Friday) if we separated, and more importantly, not doing it in the first place. Later we laugh at the fact that the box had handles, something which if we realized sooner, would have made transporting them SO much easier, but we made it through. We're stronger for it and vowing never to do it again. Kids have promised to hide flyer from their mom. God bless them.

As a sidenote, the picture above is a picture of an actual Wal-Mart during Black Friday. A Wal-Mart in Bizarro Land where people actually smile and have room to turn around.

P.S. Thanksgiving dinner turned out perfectly proving, once again, that I can cook a huge feast without any mishaps and that in doing so, I really feel like Wonder Woman. Wonder Woman with crackly face, but Wonder Woman nonetheless.
Monday, November 20, 2006
99 Jars of Pickles on the Shelf, 99 Jars of Pickles
Three times a year I buy pickles -- Easter, Thanksgiving, and Christmas. I like pickles. I think they're a crunchy, sweet OR salty snack, but they're just never on my mind or shopping list until those three holidays.

Growing up, my mother always had a pickle tray for every holiday. Pickle AND olive tray, to be exact. During dinner she would always say, "Doesn't anyone want any pickles? Pickles, Beth? Dad?" She would even hold up the tray at times, but being carnivores, we were all devoted to the meats. Pickle shmickle. Bring on the turkey with gravy. Pass the mashed potatoes. Pass the rolls. But pickles? Not so much.

I always remember thinking and even vocalizing, "Why have a pickle tray? No one wants it." Yet here it is, well over 20 years later, and I'm dutifully planning my pickle and olive tray for Thanksgiving. I will also ask, "Pickles? Anyone? Take some pickles? Feeling like a sweet gherkin? Want a crunchy dill?"

I think it's one of the first signs that I'm turning into my mother. I'm fully invested in purchasing and making something no one wants to eat. I'm fully prepared to advertise said item and grimace if it keeps getting passed up.

What's next? Keeping leftovers on the porch? Nah, I'm not ready for that. My germaphobic tendencies will keep that at bay for now. Still, if you get a hankering for pickles or olives, stop on by. I'm sure I'll have more than enough for everyone.
Wednesday, November 08, 2006
Guilty Pleasures
What is yours? It's the one thing you indulge in that you feel ashamed or guilty of doing after you're finished. Sometimes you feel downright stupid or weak.

I just thought the answers to this would be super interesting from the folks who normally travel here.
Saturday, November 04, 2006
What Do YOU Buy ...
the person who has a lot and doesn't want anything more as a gift for Christmas (or whatever you celebrate)?

My mother is over 60. She lost the love of her life, my father, last year. She doesn't shop, go to the store, chat on the internet, read, or even leave the house. No, I can't MAKE her. I'd like to make her, but it's not happening, so gift certificates for anything out of the house won't work for her.

She doesn't dress up, doesn't wear make up, and usually wears pajamas. She has a LOT of pajamas.

I just don't know what to buy this woman for Christmas. Anyone have any creative ideas or things you always buy that's a hit? I would REALLY REALLY appreciate it!

Thanks in advance.