Tuesday, October 25, 2005
Feeling the Need
Do you ever do things because you feel you HAVE to do them, but you really don't WANT to do them? I'm not talking about going to work. You get paid to do that so it doesn't count.

I mean like being polite to your mother even when she's driving you nuts by calling you repeatedly, but you feel you HAVE to be polite in return? Or not choking your son when he keeps uttering the same nonsensical phrase over and over again during your one and only favorite TV show because you KNOW it's just wrong to choke children?

I do the same thing online. Lately I've been working on getting me together. It's paying off. I feel better, I look better. Heck, I lost 5.5 pounds in one week. 5.5! (Yes, the .5 is important. If you don't need to lose weight, you don't get it.) Anyone who knows me knows this isn't how I lose ... ever! I've been working on the emotional front as well, but still, I'm inherently a people pleaser.

Not all the time. Not in a disgusting slobbering way. I won't go door to door looking for ailing neighbors to dote upon. I won't stay up past 10pm doing anything except reading unless there's an actual emergency. I can be selfish, but I can be giving as well.

This is why I've been away from the blog. I didn't know how to just write without making sure to check everyone else's blog as well. Then I felt obligated, then I was short on time, then I was not enjoying it, and sailing through them.

I suddenly realized nothing would stop if I took time off. Bloggers would be okay. They'd keep blogging and I could put my focus on me for a while.

OK, I'll be honest, I'm still just focusing on me, but I just wanted everyone to know why I've been incommunicado lately. See? There I go again ... making sure no one is offended by my absence. So silly, really, but I'm learning!

I'll be reading everyone again when I have time to enjoy it. It could be tomorrow, could be this afternoon, but getting your life in order takes hard work and a lot of time. Sloth fills every dusty corner with ease. No wonder people have posses. Hmmm, someday perhaps. =)

Have a great week all and if I don't blog before then, a spooktacular Halloween. Hey, Halloween is my birthday! I have the right to be cheesy about that day.
Wednesday, October 19, 2005
One Last Gush
Jillian PMed me this awesome PM about her, the book, me, my dog ... stuff like that. I had asked her about being a mentor once a month. She gave me her private e-mail and said, "I expect an update every Saturday," and a bunch of other just really awesome stuff.

I've been really focused on changing my life, but I can't say enough about this woman. Even if she found me funny or my pug unbelievably irresistible, she's still normal.

So, I'm short on time, but wanted everyone to know. Jillian Michaels rocks!
Monday, October 17, 2005
Is That REALLY You? Yes, It IS!
If you learn one thing about me at all while reading this blog, let it be this: I never had a mentor or someone I looked up to in my life. I think my own ego always got in the way. It was so big, I couldn't see anyone else as all that great. Even Oprah. Sure, I admired her, but she had a lot of qualities I didn't like at all. Can you say, "Can't stop talking about herself long enough to let her guests talk?" Okay then.


Then came Jillian Michaels. She's the girl over on the left. Female trainer on NBC's "The Biggest Loser". First season, I was like, "Wow, look at those biceps! Could you get more perfect biceps!" Or "My God, that woman has a dream body." Second season, I not only made the above comments, but I also started liking everything about her. The determination, the focus, even her anger when people have a steak the size of Nebraska. It was all there. The perfect mentor.


When I find out she has a book, I'm more than a bit pleased. I rush to order and dance with joy when it arrives a mere two days later. Since then I've been reading and writing out all the initial exercises. Jillian's approach to weight loss is to really get the mental aspect of eating under control first -- why you eat, when you eat, what you're replacing with food, what you're feeling when you eat, etc. Then she takes off into the science of losing weight (not just some stupid starvation diet, but an actual eating plan based on your body type). Then on to exercise ... a helluva lot of exercise, but she clearly states in the books introduction: "If you're looking for an easy way out, you're not ready for this book." She also tells you to put it away and back on the shelf. Gotta love that kind of confidence.


Then it hit me, I found my mentor. She was a chubby teen who did drugs and hung with the wrong crowd trying to find something better. Take away the chubby part and we led the same kind of life. Only she found her way out of chubbiness by the time she finished school where I found mine right after I graduated. Tsk, tsk, tsk.

So, I decided to search for a group to do the book with. Answer the questions, analyze our habits, share our own individual eating plans, exercise sessions. I visit a pretty big weight loss site online. Finally, people start answering, they're interested, they're reading the book, going to order, or waiting for it to be released in their country. Yahoo!

But then comes the shock of a lifetime. Jillian herself makes an appearance in my thread to say thank you for the heart warming praise, to say a few paragraphs in fact, and then to offer her assistance if anyone has questions. I was flabbergasted. Now, this could be a fake, but just reading the paragraphs again makes me think absolutely not. She only posts once and that's it. Her name is "Jillian Michaels" and she has a friend on the site. As I said, the site is kind of well known and has won more than a few awards.

Either I have my wish and may/may not be in contact with Jillian Michaels for a time or I'm selling myself a dream. Either way, life seems a bit brighter this morning. (even with the rain and wind storm outside)

UPDATE: It's been confirmed, it wasn't a snert, but Jillian herself who has even replied to me again and has decided to stay a part of the whole thread/discussion/group. =)
Saturday, October 15, 2005
Rodney Dangerfield, You Now Have a Twin!
I feel a bit like a clucking hen-type complaining about my husband this week, but cluck cluck cluck. Lastnight husband and I tried to talk and did talk, but he brought up something having nothing to do with the fight. Still, it was important to him. He said no one in the house appreciates him as the bread winner, the guy who goes out and busts his hump to earn the money ... none of us care or are appreciative of it.

I admit it, I laughed. When John is feeling sorry for himself, he goes all out.

Every day when my husband gets home, my pug dog, Drusilla, runs to him and jumps around like mad. He says it's the best part of the day. Drusilla could be mentally retarded. Seriously. She's just a dumb dumb dog.

So, I said, "Well, Drusilla is retarded, John. She's also a dog. Do you wish we were all retarded dogs who would run to you and jump around like fools, clammoring for a piece of your leg?" He actually said, "It would be nice."

"Would you like us to shit in the corner and eat with our paws as well?" I couldn't help myself. Rest assured, Dru is house trained, but that line from "Drop Dead Fred" is classic. Whenever I can, I use it.

Husband goes off about respect. How HE should get respect. How no one respects him.

So, I ask him when was the last time he was ever happy to see someone else? When was the last time his kids came home from school and he was like, "WOAH, there you are! Great to see you, Buddy! How was your day?" Or, "Hey honey, you were at the grocery store a LONG time! How was the trip?" He said it wasn't the same.

I looked him in the eyes and seriously said, "You don't get it. You get what you give. If you aren't willing to show love, affection, or respect to anyone in this house, you surely won't get it return. There's the kids and me on one side and you're on the other. We have no problem showing each other love and affection while you're off somewhere else mentally missing out on all of it. You don't even help out when I'm down, you just continue to kick. Be grateful I haven't done that to you."

I still think he doesn't get it. Emotionally my husband is like a dying bonsai tree. A tree that's never been allowed to grow big and each year, it gets a little worse. Yet everyone else around it is supposed to be extra careful because the bonsai tree is fragile and more important than the other trees. Well, you get the picture. Or maybe not.

Hubby is not ignoring me now. After the hours of conversation we had lastnight, most of which he didn't really hear because he was too tuned into himself, as always, I wanted to see if he was really just in his own world. I said, "I apologize for what I did." Mind you, I had told him I would not mean the apology because I didn't do anything wrong. HE was the one who did something wrong, but it was a test. Amazingly, husband was all better after that, like, "Well, at least you finally realized."

I just kind of shook my head. I'm going to have to make plans for when the children go to college. I'll need to get a job, join a couple of groups, and get active. I will not be able to revolve around the Master of Poor Me's anymore.

Over and out.
Thursday, October 13, 2005
Traveling in a Fried-Out Combie. On a Hippie Trail, Head Full of Zombie.

For those who don't know it, the title of this post are the first two lines of the Men at Work song, "Land Down Under". Did anyone know those words? I know I wasn't singing them back in the day, but can't remember what I did sing either. Maybe I only sang "hippie" and "zombie" then left the rest as hummed.



Which brings me to the subject of retro clothing. When it was retro 70's, I hated it. I said, "What's wrong with these kids? These clothes didn't look good back in the original day, they're NOT going to look good now!" But now it's retro 80's and with glee, I'm buying my son vintage Izod polos. I can't help myself. The trend hasn't hit my small town yet, but I don't want him to be in a line. First is best. Although in my own life, the Izod trend was just a short time for me before my punk phase, I still look back on the shirts with happiness. Let's admit it, they were actually comfortable! Unlike the jeans, which had to be skin tight, much like Olivia Newton John's "Grease" pants.


So, even if hubby is still not talking, I'm still being productive and even spending a good chunk of his money. Hubby is now at the point now where he says he's waiting for his apology. This is the retarded phase of mental illness, I'm sure. I'm also sure the packages and such are starting to scare him, but oh well, it's better than binge eating!

Hope this Thursday is a good one for all.
Wednesday, October 12, 2005
They're Coming to Take Me Away, Ha Ha Ho Ho ...
No, my husband still isn't speaking to me. Well, he's moved past complete silent treatment, but only speaks when it's necessary. It's okay though. I'm not wallowing in misery. I don't do pity parties well. That's why blogging works for me. I get it all out and just move on with life. I will admit, reading responses helps a lot, but I think there's a sense of validation in it, of being heard. Thank you all once again!

The latest crazy incident has nothing to do with my husband. This time, it's my mother.

As most of you know, my brother was deeded all of my father's possessions. This means my mother's house is now my brother's house. She lives with my brother, pays all the bills, but it's my brother's ... lock, stock, and barrel.

My father passed away recently and since then, my mother has had a hard time at night. This is understandable. My brother knew this. Yet, he's still been leaving her alone and not telling anyone to go off and get drunk. (Mind you, he's the only one without children, a spouse, or a life. The rest of us can't afford vacations or drunken binges because we have actual bills.)

So, brother goes off to the casino last Sunday (oh, how God must be pleased!) and my mother begins to choke. Then she begins to cough. And then the vomit comes. Now she's in panic-mode. She's calling me, my sister, my brother, President Bush, her paper man ... ANYONE, so that if she passes out, they can hear her and call 911. She doesn't call 911, however. (Remember, I said this was crazy, not sane)

It's about 8pm. My sister leaves her house and I leave mine to race to my mother's because we heard she's at death's door. My mother already has a nurse there who used to care for my father and she's the one giving updates. When I arrive, however, mother is fine. The nurse is NOT fine. The nurse is upset and freaked out over the whole incident, over being called for it, and now flies out of there crying. I told her she's in the wrong line of work. Her work is caring for old people ... who will invariably choke, vomit, and die. Especially the ones who live for bourbon and scotch.

Anyhow, when I called my brother from her home, mother suddenly became sick again. It was obvious why she was doing this and I let her roll with it. I told my brother she was sick, refusing to go to a hospital, and didn't want to be alone. He said he didn't drive and would try to get home as soon as he could. He didn't leave for another 3 hours. Oh well.

Knowing my brother will not accept responsibility for my mother, even though the reason he got everything was TO take care of my parents, I told my mother she either needs to get on some medication to deal with her nighttime problem, get a big dog, visit someone else, OR tell her son he must stay home until she feels adjusted to her new life. I will bet she does none of this, but at least I said it.

Incidently, I want at least one blogger out there to promise a visit in my old age to see if I am behaving like this and if I am, you must feed me a cyanide capsule. Truly. If I was doing this to my kids, I wouldn't want to go on and probably am completely out of my gourd. If you're against the whole Kevorkian method, just the drop the capsule where I might be able to see it. Who's up for it? :)

Happy hump day!
Sunday, October 09, 2005
Polar Opposites
I go to bed only to fall asleep in the wee hours of the morning and drift into a nightmare. There aren't any blood-sucking vampires, brain-eating zombies, or serial killers, but there is a lot of psychological upheaval.

I fall asleep and am back in Atlanta, New York. Back in the home I loved, the town I loved, I'm toned, I'm fit. I happily yell at my husband, "This is MY bedroom!" Then I bring him to another room and say, "It's really real!" On and on until I hastily proposition sex in every room. Then I stop, realizing I'm not "sex in every room" kind of girl and say, "All that's happened over the last few years. It was just a nightmare." BAM! I'm awake now. Laying on the bed. Looking around my hovel of a bedroom, fooled once again by the subconscious mind.

When you have hard times you will invariably hear two things:

"It can't last forever." (or "It can't get any worse.") (or "There's a light at the end of the tunnel.")

Or my personal favorite ...

"Learn from it."

I like life lessons, but I prefer the kinds where I'm not actually living like a bum. Life lessons like, "OH, you maxed out your credit card when you were in your 20's and figured out the minimum payment would keep you paying the rest of your life so you'll never do that again."

I don't like the life lessons where I lose a 19th century home I helped renovate because my husband suddenly went mad bi-polar and took a job opportunity in Iowa. Opportunity in Iowa. Tell me that doesn't even read funny.

Because my bi-polar husband had a worse time mentally when the whole family lost everything to go with him to Iowa, the experience was miserable. He was miserable. Verbally abusive, emotionally bankrupt. This is why I will often say, and to complete strangers it is more than a bit confusing, "I lost my soul in Iowa."

I also lost my house, good credit rating, great figure, athletic attitude, mental composure, lust for life, and healthy eating habits. To be fair, I didn't actually lose them. I gave them away. Once the soul was gone, it wasn't really too hard.

For the last two weeks my husband has been in a manic low. I don't really have anyone to talk about this with, but I hate it. My dad passed on September 12th, my house is only halfway done and it's already 50 degrees out. We have no heating system to speak of firmly in place. We do, however, have a wood stove just sitting in the corner ... not hooked up to anything, but there it sits.

Now I can't say my husband isn't a good guy. I can't say compared to a lot of bi-polar people I've encountered, I'm not lucky. He works hard out of the house, all the time, and he always has. I've never had to seriously worry about money. He was fired once in his lifetime and had a job by his previous company within 2 hours of it. 2 hours. That's not serious hardship.

Still, emotionally, it can be draining. Like now, he doesn't smile, he walks around like he's drowned and died, but no one's told him. He'll do something completely idiotic, like shop for another guitar or go out for a video, but not come back for 2 hours because he ran into "someone he knew" and of course, suddenly treated them better than he's been treating me.

So, now that it's 10:30pm, I say the standard, "Well, I'm going to bed then. Thanks for making me wait." I throw his pillows at the dusty floor, which STILL hasn't been finished by him, and say, "Have fun on the couch because if you could spend the last two hours shuffling and grinning for your friend, you certainly could have been doing it here."

I'm just tired of it, I guess. It takes a special person to deal with bi-polar personalities and I always thought it was me. I can ignore it, not get too freaked out, and not buy into it. Try to keep it level, but shouldn't I be allowed to not emotionally babysit someone when I myself might be a little fragile? I mean, I realize my husband needs to take center stage, but his father didn't die. His life isn't interrupted because the whole house is only halfway done.

Still, I'll have to buoy myself up and be grateful I live in 1,000 square feet of space instead of 3,000. Be grateful it isn't historic, but modular. Be grateful my husband's bi-polar and not sane. Be okay with dead father because well, that's life. Sometimes, it's just not possible.
Friday, October 07, 2005
Terror Tot of the Wal-Mart
I'm not a shopper by any stretch of the imagination. Well, I CAN shop and I'm a bargain hunter, but I lack a shopper's soul. The kind of shopper who will wake up at dawn to catch the worm, is happy to set out in search of bargains, and actually enjoys the trip. This is why I usually try to keep all shopping trips to a minimum. Wal-Mart (for the cleaning products) once a month, the grocery store once a week.

This week, I've had this urge to get out in the morning and actually do things. Not important things, just anything. Soooo, I went to the video store and renewed my monthly pass, I rented terrible movies, I went to the library to get more books (Faulkner, Tolstoy, Quindlen), I went to the grocery store, and even Wal-Mart.

Basically, I find myself buying things I clearly do not need.

"Ooo, they clearanced this cross stitch kit to a dollar. Daughter will like it!"

"Oh, WALLIES! I didn't even know they had mini-wall paper appliques. Clearanced to $1.80."

"Wow, Oral-B Brush Ups, 2 for $1.00. These will be nice for Dru."

Silly things like that. Unnecessary things. I buy them, I'm suddenly happier. Is this how addiction starts? (Brain is too foggy to research days of smoking pot yore)

Then it happened, yesterday, when I hit checkout. There was a toddler in the cart ahead of me with a grandmother who was still shopping in line by calling out to daughter in clothing, who was too young to have a toddler. Just my opinion. About the too young daughter, not the grandmom who was shopping. That was a fact.

Daughter gets out of line and starts holding up shirts while grandmother says, "No, not blue. Oh no, it HAS to be small. Mmm, that one's okay." Meanwhile, she's not putting cart contents on conveyer. I wait. Finally, daughter disappears ... right when her stuff is being scanned by Wal-Mart employee who clearly is not pleased with this customer either.


I wait some more. I wait while insane grandmother lets pint-sized Hitler play with the conveyer. Now, I've heard horror stories about these belts. To be fair, I've heard worse ones about escalators, but I have had packages of cookies get smashed by these belts. Still, Grandma is letting this wee one play with it. (the belt, perverts!) More importantly, she's not letting me put my purchases on the belt. Her things are almost done and I'm STILL not on the belt. I try to be polite. I pick up my 3-pack of paper towels and smile at her. I do this pointy-type thing with the package. It takes her a while, but finally she says, "OK, let's move up and get out of this lady's way."

PERFECT! Get out of my way. I've only waited 10 minutes so far, but hey, this is progress.


Then daughter shows up. The Tot from Hell is now grabbing items off the belt and not putting them back. Instead of taking them out of his hand because a "lady is waiting" behind her, the grandmother bargains with the 1 1/2 year old. "Come on, honey. Put the pants back. Oh no, that's Grandma's. Put it back." The grandmother will wait a good two minutes for each item before gently trying to take them. Let's face it, the kid is no Einstein, he'll never relinquish the goods himself, but she hasn't given up hope.

Not-so-happy cashier now has all items in bag and you can tell, she's happy to be done with it, but now, Junior Demon has found the pen for the credit card machine. Of course I'm thinking, "OMG, rip that thing out of his hands! Does she realize how many people TOUCH THAT?!? He's going to put someone else's feces in his mouth. OMG, this is ridiculous!" Because once again, Grandma is bargaining with Satan in a Diaper. "Come on, put the pen back. Come on ... come on." Teen mother is joining in also.


Of course, I say nothing. I am from a dying breed: those who embrace civility. I think civility is humanity. If people were civil, the world would be a better place. So, I say please, thank you, thank you so much, let me get that for you, and a host of other civil things ... even when I don't mean it or don't particularly feel like it.

Anyhow, Grandmother looks at me. Half my face looks like and I apologize, but this is what it looks like, "You are two stupid f*cking broads" and the other half is horrified, still thinking of all those germs, fecal matter, and the like. Grandmother sees it and starts shouting, "Come on! Get the pen. We have to go! We're in the way! We're in the way." I tried to smile to cover up obvious two-face terror of my own, but I can't. Smile just makes it look even more odd.

I FINALLY get up to cashier. She is rolling her eyes like nobody's business. I say, "Thank God mine are grown!" The woman nods, but does no further acknowledgement. She's not happy to see my groovy, child-free self. She's still sick in the Terrible Tot incident. This is until I realize she doesn't speak English, only Spanish.


Which brings me to my next query, how in the world can you work at Wal-Mart in NY and NOT speak English? She didn't do a bad job, but what if one of my items had scanned wrong? Would she just keep on nodding, rolling her eyes, and scanning? Would I have any recourse? I don't know Spanish because I live in America. I didn't think it would be necessary. The best I could do would be, "Scanno itemso wrongo." I don't even think that's Spanish, but it could possibly be Italian. Another language I didn't think I'd have to learn to do some shopping in America.

At least I have the shopping thing out of my blood now. It's back to hating the world of consumers once again, but acting polite about it.
Tuesday, October 04, 2005
One, Two, Buckle my Shoe!
I think this old tune was the beginning of OCD. Or at least, the beginning of singing about it. Counting your steps. Counting your life. Counting in general.

I'll admit it, I have a bit of OCD behavior. Three OCD behaviors, to be exact.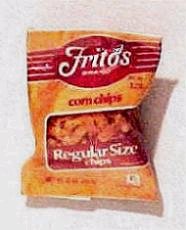 One, I have an obsessive/compulsive relationship with food. If I am thinking about a particular food, say haddock for example, I will think about it all morning, afternoon, and night. The texture, the taste, the tartar sauce, even the fries that belong with it. The following day, it starts all over again until I finally succumb and buy it. Once I eat it, I can either feel fine OR I'll begin the thoughts all over again until the next time I have it. I also have a hard time knowing certain foods may be in the house without eating them. It's almost like, "Oh my gosh, Fritos. If I don't eat them now, when will I have them again?" Yeah, cause Fritos are really becoming extinct, right? It's nuts, yes, but that's OCD for ya.


Two, I have a problem with germs. I don't touch door handles in public places. I don't touch other peoples' hands either, but knobs and handles are far worse. I don't even really enjoy touching them at home, but at least here, I'll employ the "one finger" method. I get physically ill if something is visibly dirty. I'm not talking dusty, I'm talking dirTY. Feces, mud, gunk ... blech. I just don't handle it well and I'm not too keen on any bodily fluids either. Strange, but true. Although, wouldn't it be more strange to love them? Like mmmm, urine, it's been so long!


Third and final, the counting game. Yes, I play it. I've been splitting wood the past few days. When I throw it in the wheel barrow after it's been split, I count out 20 pieces. Then I wheel them up the hill, over to the dump pile. I count how many trips I make. Over and over again. Same thing when I brush. I count slowly to 120. When I wash my hands, I count slowly to 20. Maybe I have a thing for 20, but I doubt it. When I shovel, I go down the length of my driveway 30 shovel fulls then back up again. So, maybe it's just a round number in general. I don't know. I don't do it out loud or with any vigor, but I do it. So, it's out there ... my three afflictions!

So, anyone else want to share OCD's? =)