Wednesday, August 31, 2005
I Found the Simple Life, Ain't So Simple, When I Jumped Out on that Road.

I decided it was time to reclaim some of my lost health, fitness ... and ooooooooh, muscle tone, smaller size wardrobe, smaller ass, quicker step, etc.


A couple of days ago, I ran alone on the trails. Spooksville. Downright creepy. If I were one of the Mystery Machine gang, I'd have been all like "jinkies" or "garsk". Beautiful paths, but SO remote. You truly can't see anything except the path you're on and once you're on it ... well, you just find what's at the end of it by going the full length because after a few steps, you're pretty much fucked ("lost" for the religious, non-cussing crowd).


Unfortunately the run was made worse by my new sneakers, which rather suck. I'm used to Kangaroo racing flats, which are shit for the feet yet strangely okay for mine. I thought I'd get some cushion from a revamped classic Reebok (OK, I liked them because they're khaki), but noooooooooo, they hurt. Instead of golden, my arches feel broken, tarnished, bruised. Still, I finished and even when it felt like I was being followed, I didn't panic. Branches breaking, twigs snapping, me looking from side to side and behind me. I stayed calm and just exited the forest to do my cooldown on the road. I was so "spent" by the run, I didn't actually have enough gumption to even run away from phantom attacker. I was more "slug-like" than calm, "wheezy" instead of hyper-ventilaty.


I did not give up after one day. Nope, yesterday I hit the weights for the first time in about ... oh, hmmm ... well, May? April? The Who reunion tour? I don't know, but I worked on chest, biceps, triceps, and then rounded it out with some abwork. Round being the operative word. Santa and I could be related if I had magic elves doing my bidding, an uber-sleigh, and let's face it, slammin' reindeer. Why did I get the matching stomach, but nothing else? Not even cool pipe with mystical smoke that encircles head.

Still, I feel better. If we weren't getting a torrential downpour, I'd be running again today. Normally I'd run in the rain, but this is so heavy I'd either:

a) Slide down mud trails and fall up them (although chase scene with phantom attacker becomes 10 times more funny now)

or ....

b) Get hit by cars on main highway due to visibility issues (or me dead on side of the road from lack of oxygen)

So, I'll play it safe until I become amazing athlete again. I'll just make it up on Sunday.

On a side-yet-related-note, I dreamed husband had new girlfriend lastnight, BUT she was unattractive midget. Instead of crying, feeling helpless, or not able to breathe, I just shrugged and got on with life. So, perhaps Schprock was right, it was an internal struggle with esteem and nothing else.

Anyhow, have a happy hump day! Don't forget to take time to smell the flowers. =)

Tuesday, August 30, 2005
What Would You Say ... Anything?


I'm over halfway done with The Time Traveler's Wife by Audrey Niffenegger (what a name!). This book has me thinking about time travel like I never have before.

I mean, in my youth I pondered time travel and of course, the ever popular time machine, but since growing up ... not so much.

In the book, a man gets to go back in time and actually be with his child self. He instructs the child on various things he will need to know in order to live a safer life.

This got me to thinking ... if I could visit myself as a child, what age would I pick? What would I say? What advice would I tell that girl or what thing would I try to get her to avoid.

So, if YOU had the opportunity to time travel just ONE time to your youth ... what would you do? What would you tell yourself? I'm actually pretty curious about these responses.
Monday, August 29, 2005
Lungs, Luau, and Lunges!
I wanted to update everyone on my hubby. He had his "big" test, which would show exactly what damage was done to the lungs and unbelievably, there is none. His lungs are normal ... there is no cause for concern. We are both shocked, but hubby said this was great because instead of quitting to repair damage, he could quit and be "just like everybody" else in his old age. Hey, whatever works! Thanks to everyone who posted about him!
***********************************************************************

The luau! My contractor had one over the weekend and to my reclusive surprise, it was fun. We had some kind of weirdo egg toss with rotten eggs, balloon stomping, and for the night's end ... cherry tomato throwing. Everyone was plastered. (with tomatoes, not booze) I hit my contractor right in the eye with a juicy specimen and then received one in the forehead. Oh well. Kids and hubby had fun so a good night was had by all!
*************************************************************************

I ran the trail alone this morning ... without CC Bloom. She's staying at a friend's house. I was scared shitless at one point due to strange branch cracking sound, but made it through unscathed. I didn't even trip. I rebuke my "Tumbly" name! Of course, I'm as slow as a slug on stilts, but it'll get better. (fingers crossed)

And just to brighten your day, here's a picture of my pug, Drusilla. Well, it works for me!
Saturday, August 27, 2005
Tommy Lee Goes to College
OK, I'll admit it. I watch this new show, Tommy Lee Goes to College. Even before viewing, I thought the concept was brilliant; send a dumb guy to college. Not just ANY dumb guy, but a hardcore rock musician who's had a pretty tainted past. Tainted with sex, violence, drugs, and a host of other things no good Christian would do.


This is the Tommy Lee I remember from my youth. He's the guy on the left. Skinny, hair longer than mine, make up, untattoed torso, drag queen rock clothes. And sure, back in the 80's, I had a best friend who LOVED Motley Crue and Tommy Lee was her guy. I wasn't that into them, but still endured hours and hours of her record playing marathons. Yes, records. I'm 34, remember?


Years passed and I didn't think twice about Tommy Lee or Motley Crue until the big sex scandal tape came out. I was in my late 20's and heard Tommy Lee and then wife, Pamela Anderson, had made a porno together. One thing you should know about me, I don't enjoy porn. Maybe I'm sexually repressed, maybe I'm a prude, maybe I think the women and men in it look so ridiculous and trashy, I just can't get turned on by them. Yeah, all of the above. Still, I remember saying to my husband, "I don't believe it's ACTUAL porn, can you get me a copy?" He was like The Flash in retrieving it. "You bet I can," was still being said as he whisked out the door in a cloud of dust. 15 minutes later, a sweaty husband had the video in hand.

Oh yeah, I watched it. I had this idea if it WAS a porn, I'd just shut it off, but no, I kept on watching it. Closely. Why? I have no idea. Seriously though, how many times do you get to see two "stars" have sex? Although I've never found either of them attractive, I can say these two things with ease: Pamela Anderson's body had zero cellulite. And you were allowed to see ALL of her body due to Tommy's crude filming techniques. The second thing? Tommy Lee has the largest penis I've ever seen. At times I marveled more at Pamela's ability to work around this monster more than the monster itself.

Viewing over. Years pass. Do not care about Tommy Lee although he pops up on an episode of Punk'd with Ashton or in conversations where "big penis" is the topic of discussion. I am unimpressed with anything I see of him. He had solo efforts in music. Didn't even care to listen.


Then, "Tommy Lee Goes to College" comes on while my husband and I (okay, just my husband) is putting down the antique hardwood floor. My husband actually stops to watch it and begins laughing at Tommy's mother's admonishments about "being a good boy," "getting good grades" and "making her proud." I am spellbound. I am laughing along with him.

During Horticulture class the instructor says "hairy buds" and Tommy repeats it and laughs in almost a Beavis/Butthead kind of way. I laugh also. Laugh and shrug like I would at ex-retard boyfriend who acted the same way. This show is funny and dare I say it? Tommy's kind of hot. No, this cannot be! You got over the bad boy, stringy hair, dumb as a box of rocks thing YEARS ago, but ... did you really? This is the question Tommy has me asking myself. See? Tommy! Not even Tommy Lee. I'm already on strange first name basis with guy who is now completely tattooed ... on torso, on neck, even ankles!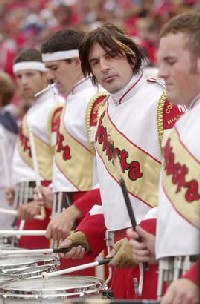 Instead of reading, I am watching TV because I know this show is coming on. Dear God, what have I become? A new episode, one where Tommy must actually prove to the field band that he's worthy and you think, "Yeah, well, big deal, he's a drummer so it's not actually hard for the guy!" Not so. He's not playing a set. He's playing some 400-lb. deal that straps over the front of your body. My husband (being a once upon a time field band geek) knows the name of those drums, but I don't. I heckled field band, but do I heckle Tommy Lee? NO! I sit and hope the guy makes it. I hope he nails it. I'm nervous he won't because he's fumbling and then he does and WOOHOO, I'm 13 again except now I actually like the guy. Now I even sigh a little when they show him in the red and black ensemble, mismatched Chuck Taylors, tie, sweater vest, cute backwards hat ... ahhhh, dreamy!

Send help. There must be an antidote for this madness. Please say it isn't Kid Rock. I mean, well, that's just wear I draw the line.

Friday, August 26, 2005
The Book Reading Update


I have finished Neverwhere by Neil Gaiman and started The Time Traveler's Wife by Audrey Niffenegger.

Neverwhere would not be for everyone due to the fantasy aspect, but was a good read.

The Time Traveler's Wife is starting out confusing as all heck, but seems to be a fast read. It flows nicely thus far.

Still reading Irving's latest, two autobiographies of his, and when I finish one of these, will start The Voyage!

By the way, the pic is of Thomas Jefferson's library. It is drool worthy, no?
Thursday, August 25, 2005
My Hell is the Closet I'm Stuck Inside, Can't See the Light.
For the first time in my life, I took pictures of myself completely out-of-shape in only my undergarments. Damned if there wasn't one bit of lycra in them. Nothing to really make me feel at least firm emotionally. No make up, no posing, just my tumbly, slouchy self.

I finally looked at those pictures and was in a state of minor shock. Who's the hobbit in the Hanes Her Way? Is it really me? How much poundage DOES the camera add? Does my husband actually SEE this on a daily basis? Dear God, what can he be thinking?

I wish there was a lever in my brain controlling my health. Flip the switch and BAM, I'm running, eating well, hydrating, lifting weights. Time to read or knit, turn it off. Get a craving for a large chocolate milkshake? Flip it on again. No worries, no wonder; just militant-like dedication when I need it most.

I think at the core of my being is a lazy girl who is forever 16 years old. Forever sleepy and slothful. During my life, I beat her back for years while trying to be Martha Stewart, successful career girl, bombshell, athlete, and trainer. Then my family moved to Iowa and with the hypnotic swaying of the corn fields, I opted for dinners out instead of prepared nutritous food, books read instead of miles run, bed rest instead of weight training.

I made peace with myself. "Fitness guilt" was miles and miles away. Back in Western NY ... back with my mile-marked running routes and inspirational weight training room filled with pictures of athletes in training, runners blowing snot rockets, sneaker ads, skinny kids trying to bulk up, etc.

I was the alpha-lioness. Any hunting needed? I'll do it! Now I'm more like the second in command. Oooo, juicy wildebeast for lunch? Yeah, you go do that and bring me back a leg when you're finished.

Oh blessed denial, come back! My mind needs you. Let's just fall into a good book together and get lost because so much of me craves the bad habits -- staying in bed when I should be up, knitting when I should be landscaping, watching "Buffy the Vampire Slayer" when I should be working out, fatty foods, salt, chocolate, and sugar. Heavenly sugar, my muse.

Through the sucrose high I see a 20-something woman believing failure was NOT an option. Hard work made a life worth living. Pain was good and gains were never good enough. You ran 3 seconds faster than the last time, but how can we slice a full minute off that time? So long ago ...

Who then, am I? What have I become? The Talmud says, "If not now, when?" I answer back, "If now, how?" And that's really the crux of everything ... those three little letters forming the question that leans over my back every day ... HOW?
Wednesday, August 24, 2005
I know, I know It's Stupid and Immature, I Just Wanna Give Shape to the Face That Twists Inside.


My gardens are still thriving. CC Bloom posed for pictures of her pretending to be my string beans out of the garden ... complete with my pea green t-shirt. We call these pictures "Tall Bean", "Sideways Bean", and "Cool Bean". We're geeks, yes, I know.

No big post today. Hubby finds out about the tests before or on tomorrow. Crossing fingers. His big test was on Monday and should be THE ONE to tell them what they need to know about his lungs.

We moved into the new living room lastnight and it's cozy. The house is so small, but we're trying to make good use of every inch of space. This weekend the cruddy wallpaper comes down, the wall goes up, the sheetrock, the mud, then the paint. We have a new door (okay, not new, but you know ... antique door) and window going in as well.

It's funny, we thought we'd be almost done with the whole thing by now, but we still have 3 1/2 rooms left, plus the entire exterior. At least the tilework and plumbing are complete.

Final snapshots:



John staining floors. These floors were from a house built somewhere near the 1850s. We planed them, he sanded them, and they became new for our home.



John made this tile as an elementary school child for his mother. Years later, she gave it back to him unscathed. It now is the focal point of our kitchen backsplash. This was a proud moment for the guy. Haha!

Happy Hump Day! Take time to smell the flowers.
Tuesday, August 23, 2005
Trail Conquered, No Casualties, Daughter Superior to Mom
We've been working like crazy on the house. "We" meaning my husband and me, not the turd in my pocket. Hubby and I are trying to make a 90's manufactured home into a 19th century cottage. No, really, we are! Most of our materials have been salvaged from 19th century homes/barns, which were demolished.

So far:

Bathroom is done -- tilework, all new fixtures and plumbing, all new everything except where we could use salvaged. We're too poor to subcontract out so do all the work ourselves.
Kitchen is done -- again, all new tile, tile counters, painting, painting, painting, new sink, dishwasher, disposer.
Dining room done -- parquet floor, 19th beams in the corners, window, paint. Beautiful room now used to store all tools for other jobs. Grrr!

We're putting all new windows in room by room except instead of being new, they're ones we salvaged out of 19th century homes. It seems people want to actually have windows that do this crazy thing called ... keep the heat inside. Not for us. We're sticking with the drafts.

So, in between this madness of having my dresser in my kitchen and my queen-sized bed in the middle of my living room floor, I stopped to start running again. Mrs. T and I talked about "faking it till you make it" and all that jazz. Instead of waiting for a why, just do it!

My demon daughter wanted to go with me. Since she'll be in track this year, I'm not surprised, but due to the early hour, I was shocked she actually got up and was cheerful about it. CC Bloom (the demon daughter) took me to trails she uses to ride her bike on near my home. They are gorgeous. Perfectly cut by four wheelers and completely shut off from the rest of the world. The forest is so dense, it looks untouched.

We were out running about 40 minutes or so and in this time I realized a few key things:

- I am clumsy and have earned the name "Tumbly" from my daughter due to the fact of tripping over every root, which crossed my path. I also tripped over a few things, which were not even present. Hubby said he will buy me Tumbly jersey for the cause. Grrr, again!

- I missed being outside and running. I really did and don't know why I ever stopped although I had a lot of good excuses.

- My daughter looks and acts like a runner. The slim, muscular body, the legs, the kickback, the huge shiny ponytail ... she didn't even break a sweat or breathe heavy! While I was panting in between gasps, "Go on up ahead." *pant* *pant* *wheeze* "I'll catch up." Then under my breath, "I'm a slug compared to you!" *cough* *wheeze* *pant*

- My daughter is my closest friend in the world. CC Bloom is funny, smart, and so grown up for all of her 12 years. We have a blast together and I usually forget she's my daughter because of it. I'll be honest, we're more like sisters. I knew this, but yesterday it truly was a cognition.

- Lastly, I want to get healthy again. I don't have any epiphanies on how to get there or sad stories as a motivator. The truth is, I simply felt better when I made my health a priority. I'm not vain, I don't like ho swimsuits, and I couldn't care less about anorexic supermodels. I was an athlete who enjoyed her sport. OK, it was cool being built like a female superhero. I'll admit that much. Haha.

Anyhow, I'm sick from the fumes of polyurethene, but still need to buck up and get my children to their hair appointments. Have a terrific Tuesday, everyone! Enjoy life and don't forget to take time to smell the flowers.
Monday, August 22, 2005
MIA
Hectic renovations have placed my computer haphazardly around the house. I'm typing this now from a kitchen counter. Will do full post tomorrow. I hope everyone is well.
Saturday, August 20, 2005
If You Give Me a Look, I'm Gonna Get the Book.
Even though I'm still reading the new Irving book plus two more about his life, yesterday I made my way to the library for the book list put on this blog.

I picked up Mr. T's suggestion:


I even began reading it lastnight. It's only about 250 pages and the others were monsters, plus, it looked rather spooky, which I like.

I also picked up Mr. Schprock's suggestion:


This one immediately captivated my sea-loving, buying a sailing vessel with taxes husband.

Then there was: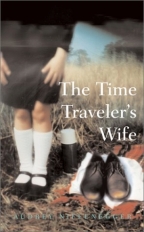 This one is HUGE so will be started next to last.

Scott suggested Lonesome Dove, which I requested and I also need to pick one up for Mr. Schprock's extra credit assignment. I had one in my hand, two actually, and then I put them back down so I flunked. The weird thing is, I had a hard time just picking up any book willy nilly. If it's suggested, no problem, but if it's someone I've not heard of or just a new release or anything, I just stare at them like I'm committing thousands of dollars or something.

I figured when I pick up Lonesome Dove, I can bring my daughter with me who will just say, "Pick, Mom" or something. So much drama for such a simple request. Not like me at all, really.
Friday, August 19, 2005
Dream Lover, Until Then, I'll Go To Sleep and Dream Again.

Last night the "other woman" was back to torment me again. I've dreamed about her so much, I've made her near perfect by now. My husband adores her and she loves him just as much, possibly more.

Yes, it's getting much worse. The other woman was sleeping in my home and showering in my bathroom while my husband was out shopping for their big day together. My daughter told me how her father was kissing the other woman, touching her leg, and how he kept saying to her, "You're just SO pretty!"

Now this woman exits the bathroom and she's tall, lean, but built just right with curves. A brunette with silky hair and little make up because she doesn't need it. I realize she's better looking than me as I try to tell her about my life with my husband. My daughter peeks in and I tell her, "It's okay. Everything's all right. I just need to ..." and that's when this woman who's just met my daughter and been snogging her dad on the couch interrupts with, "Okay, honey." This is unacceptable! I raise my voice and tell her, "DON'T direct my child! YOU don't tell her anything! I've been with her father for 19 years ..." The other woman almost yawns until we both see my husband waiting at the door ... for her, smiling, beaming, in fact. The other woman smiles back and rushes to him. I can't bear to watch this, it will kill me, and then ... I wake up.

I perch up on my elbow making sure I don't fall back asleep. My husband is already out of bed and comes in a few moments later. He must see it on my face because he seriously asks, "What's wrong?" And right then all the pain of the dream hits me and I just start sobbing.

"I had a nightmare. You were with another woman again. She was beautiful and you loved her."

He rushes to me, sits beside me, puts his arm over my shoulder, but I can't stop crying. He isn't even dressed so must feel the tears dropping down his shoulder.

"They're getting worse," I tell him.

"It isn't real."

"Yes, but I keep having them every night."

My husband tries to reassure me while making jokes about "how hot was she" and "oh, I tagged that shit", but I'm still "there" back in the dream. Still wrecked and insecure, hollow and tortured.

As far as I know, John has never been unfaithful to me. Not once. Not even before marriage when we were dating or before that, when we were just friends. So why are these dreams so weird, so real, and so painful? Are they warnings of the future or imprints of the past? Engrams from being carried in my mother's body for nine months while she chased after my own cheating father? I know this was about the time my father told her he was in love with someone else and planned on marrying the girl. Apparently, my mother keeping his home and having his children wasn't enough to make him commit to her.

Whatever the reason, I just want them to stop. Besides losing my children, these are my worst dreams. Although fighting lucid demons and zombies becomes a cake walk after nights like this. I just need to get my razor-sharp sword in the dream with my adulterous husband. Dare to dream, I guess. (no pun intended)
Thursday, August 18, 2005
Former Scientologist Speaks Out

Yes, I was a practicing Scientologist. I frequented organizations all over the states. Connecticut, Massachusetts, Florida, California, Colorado, and a few in between. The two largest in the world and even fledling missions ... I've seen a great deal.

No, I was not brainwashed. Scientology is so far from this word that sometimes just the idea of it makes me laugh. I know people who say it have no idea of what they're talking about, but still, it's funny. I'll explain more later.

Yes, I was an actual employee of the Church of Scientology. No, I never made any money from it. If it was a church of greed, I was definitely missing out! A fact I'm not happy about as I like cash as much as the next woman.


Oh, there's more ... a whole heckuva lot more, but I want to concentrate on just a few of the popular misconceptions I've seen out there in Blogdom. Not because I'm affronted by all the Tom Cruise jokes. Nah. I just want to stamp out the ignorance that goes along with them. It's part of my "if you don't know anything on a subject, don't speak on it" theory.


Popular Misconception #1: L. Ron Hubbard is God to a Scientologist.
- No, for the love of Ron, no! (ok, had to slip my own joke in) Seriously, this couldn't be further from the truth. L. Ron founded Scientology back in the 1952 after being a world traveler and watching many walks of life, psychological techniques, famine, celebration, you name it. Scientologists actually need to believe in a higher power, God or whatever name they have for him/her just to BE Scientologists and the higher power is NOT L. Ron Hubbard although he looks quite spiffy in the hat.


Popular Misconception #2: New members are brainwashed or put on mind-controlling drugs.
- Wrong and wrong. Instead of the counseling you may be familiar with (on a couch, reclining, sleepy, or hypnotized), new Dianetic (Scientology) members have auditing, a process where the new person is wide awake, has had at least 8 hours of sleep and is not tired, is not hungry, and is comfortable, but sitting up. My first auditing session, I actually yawned and had red eyes so had to go take a nap and come back. Scientologists take vitamins, not drugs, which they believe fill the body with harmful toxins and can hurt the mind as well. I'm still not sure why people think chemicals are actually better than vitamins and if they don't, why do they chastise Tom Cruise for saying it?
Don't get me wrong. My husband is bi-polar and takes medication for it. Medication he couldn't take while being a Scientologist, but would I rather it be vitamins? You bet! It'd be a lot cheaper too.


Popular Misconception #3: Scientologists HATE Psychiatrists.
- Wrong again. Scientologists believe everyone is "basically good" except for the criminally insane (murderers, psychopaths). Yup, even your weird Uncle Marvin, basically good. Scientologists believe L. Ron Hubbard created the only actual technique for helping people be free of their "reactive mind"*, but he did this by studying people such as Freud for his conclusions, which are very different. *The reactive mind is the portion of a person's mind which works on a totally stimulus-response basis, which is not under his volitional (willing) control, and which exerts force and the power of command over his awareness, purposes, thoughts, body and actions.


Popular Misconception #4: Scientology Believes in and Uses Hypnotism.
- See above. Scientologists believe that's one way to make the reactive mind's control larger. They don't even advocate "joke" hypnotism as seen on silly TV shows. You know, "When I snap my fingers, you will bawk like a chicken" kind of stuff. Oh, it's a hoot to watch, don't get me wrong, but are you sure you won't bawk later on in life? That's the question!

Popular Misconception #5: Scientologists Think They Are Better Than You.
- This was the one thing I was so surprised to see on blogs. Scientologists believe they've found the answers to mental and physical suffering. Their primary goal is to share the information and to help. The Scientologists I worked with worked from morning until night doing this. All the staffs from around the world seemed genuinely happy when someone finally came in and started services. I broke records in course time when I was "on course" in New Haven and used to have small crowds gather when I was finished each time ... just to acknowledge the achievement even though I was "new" and always asking questions. I'm the person who says, "But why is this here" or "Why is this like that" to anyone, even the Pope if I had the chance. I'd be beheaded in seconds in Rome, I just know it.


Popular Misconception #5: Scientologists Worship Tom Cruise or Have Sent Him to Start Speaking for the Church.
- Just as a Catholic or a Jew is expected to behave a certain way in secular society, Scientologists believe this is true of any man. This is what Scientology writes about its celebrities: "Obviously many Scientology celebrities have been outspoken in their support of the Church. But that is exclusively their own choice" and "Good or bad, what an artist does in life is often widely reported by media. Celebrities who are Scientologists live happy, successful and moral lives, which set a positive example for the rest of the world. In addition, their support for social betterment activities, which seek to improve society, is of great value."

The Cruise jokes can be funny (I'm particularly fond of the online action pic of him zapping Oprah like the Emperor of Star Wars), but when people are using them to lump Scientology in as if they are personally responsible for his actions, I call bullshit.

I mean, should Ben Stiller be responsible for the whole Jewish community? Well, actually that may not be such a bad idea. He's funny, pleasing to the eye, and let's face it, he looks a lot like Mr. Cruise himself. This might be due to Ben being a big "fan" and impersonator of Tom's for years, but I personally prefer Ben. Speaking of Tom, yesterday I spent some time reading ALL of what Tom Cruise said instead of what people wrote or told me he said and there's quite a difference. Does he sound pompous? Oh heck yeah ... in my opinion anyhow, but the words aren't being "heard" and that's just my opinion also.


The Most Ignorant Popular Misconception I've Seen or #6: You Give Up Your Religion When You Become a Scientologist.
- No, no, and no! If you walk in the door a Catholic, you walk out a Catholic. Your religion is YOUR religion. Scientology is spiritual help, spiritual counseling, but not a replacement for your own basic religion. The only difference is the church of Scientology offers solutions instead of admonishments. The Scientology site actually says this: "An individual's religion is a private matter and it is not the Church's duty or desire to publicly discuss the religious choices of any individual Scientologist." Bada bing, bada boom.

The Last Popular Misconception I'll Write About Today is #7: Scientologists Stay Separate From the World and It's Disasters.
- Again, not true. Scientologists were at 9-11 as volunteer ministers and are still in South-East Asia now. If there is a disaster, they are there to help, but the difference is, they don't try to get on the news about the help they are giving.

Now I'm defending Scientology so the question is why? I just couldn't stand it anymore, I guess. My children have been raised using Dianetic and Scientology principles even though I am no longer affiliated with the Church of Scientology. I left the church back in 1993, during my first pregnancy.

At the time, I began having my first inclinations of being a recluse. Panic attacks, agoraphobia, you name it. Instead of actively seeking help, I cut myself off from everyone and everything except my husband. I quit being a dental assistant 4 days a week and a Hubbard Dianetic auditor the remaining 3, but I still believe in the principles. I'll admit it.

I went to college to become a psychologist, read Dianetics and left to become a Scientologist. I have seen the science work by using it on others and my children. There are some things I don't agree with in the church and this is why I just never went back. Not any of the crazy shit I've read, but personal stuff between myself and others.

Whatever you think of Tom Cruise, Nicole Kidman, John Travolta, the voice of Bart Simpson (I can't remember her name ver) or all the rest of the celebrities and Hollywood players who are also Scientologists, I would suggest to just read for yourself if you have any legitimate questions instead of taking mine or anyone else's blog at face value. You could be missing out on actual life-changing information and at the very least, you would be well-informed instead of ignorant on the topic.

And that's just my two cents.

(this blog is not a paid advertisement for Dianetics, L. Ron Hubbard, or the Church of Scientology)
Wednesday, August 17, 2005
She Proved Me Wrong
I'm not a sentimental person and I hate being wrong about anything. I'm cold more often than warm and if I don't know about something, I just try to stay out of it until I can learn more. Some things though in life, just a couple, I thought I had all figured out ... Internet friendships and women. All women. Period.

You have your bitches, your whores, your pleasers (these can be whores as well, but these are the ones willing to do anything to help), family women (they love their families, not outsiders), your recluses, and your party girls (see whores, but give them more booze). Really, this is how black and white my mind categorized women and at times, it still does. I also completely believed I would never actually be liked by any women because I'm too weird and too set in my ways at such a young age (before wrinkles and gray hair). My own flaws would send them packing and their flaws would be too much for me to handle.


Then she came along and proved me wrong. Sounds like an old blues song, that's how bad it is. Done proved me wrong. Kaboom boom boom boom. Done proved me wrong. Kaboom boom boom boom. And that's what I feel like too. Some old guy set in his ways singing about a woman who done proved him wrong.

I'm not even sure when I "met" Mrs. T or when she first called me. I know I firmly believed friendships beginning online didn't matter, so I probably just didn't keep track ... although my timeline in general can be a bit wonky. I knew she was open and free. This is not to be confused with hippie or a whore. She's a dedicated wife and mother, but not the type to show you all the good and none of the bad about her life. The truth is better than a flattering lie in her book, which matches my book perfectly.

Every friendship I've had, no matter how it ended, all boiled down this ... the woman wanted me to be this thing when I was that thing so it was better just to call the whole thing off. After the last bad "break up", for lack of a better cliche, I gave up. Solidly gave up. My best friend lived down the street and literally broke my heart into little black charred pieces. It was refreshing to learn I had a heart, but seeing it laying there was no treat. This was about 8 or 9 years before I began talking with Mrs. T. Again, wonky timeline ... could have been longer.

Yes, I had spoke with other women on the Internet and in real life. Real life women leave me cold because I could give a flying fig about designers, BMWs, manicures, pedicures, spa treatments, and doing a daily manic over all calories. I had only become close with a few online, but not close in the "I'm investing any feelings into this relationship" crap. No way. When they left me I was ready and pretty much unscathed by it. Then I told myself, "People are absolutely nuts for forming bonds over this medium. They're not real!" Actually, I believed it couldn't be done.

After all this time with Mrs. T, it hit me, I really do have a friend. In the beginning, I didn't believe it and really tested her. I didn't even know I was doing it. Fighting with her husband, getting riled up over her other online friends, breaking off communication, hibernating, and then I'd talk to her. That's all it took. Just three minutes of hearing her tell me whatever I was thinking was wrong and I believed it or hearing she loved me. Loved me? Me??? I felt better. I felt accepted.


Now for the first time in my life when something goes wrong and I'm doing my standard Jack Nicholson yell of "Are you going to talk to me or what?" (as seen in "As Good At It Gets"), I find myself looking for Mrs. T and not my husband. My husband laughs and says, "She's good for you. You needed this. I can't help you with everything." I'm embarrassed and in denial, "Oh stop! I don't know what you're talking about and stop making those kinds of comments." He peeks out onto the deck and there I am, on the phone talking with her. My God, what have I become?

I've been everything on my list of women. Right now I'd be a mixture of the bitch, the pleaser, the family woman, and the recluse. The recluse makes it really hard for me to actually meet people. It crippled me once upon a time. I was literally a shut-in for a few years and still have problems with prolonged contact, yet Mrs. T has been talking about meeting for a while now, visiting each other's homes, a trip to Ireland, and I can't say "no" because she just keeps proving me wrong ... time and time again.


For the love of God, I spent hours yesterday morning trying to find a neighborhood florist to send her "get well" daisies because they're her favorite. I wanted the bouquet to be all daisies, the right daisies, and then I worried if they showed up looking how I ordered. Like I wrote to her, if I could have picked them I would have ... then you know for sure. Is this sickness or just my bizarre way of showing affection? Or friendship?

Either way, please don't forget to stop by and wish her well, if you haven't already. Having your tonsils out can't be a picnic.

Have a beautiful day, everyone!
Monday, August 15, 2005
I've Had My Lungs Checked Out with X-Rays, I've Smelled the Hospital Hallways.
My husband went for a second test regarding his abnormal chest x-ray results. It seems the x-ray or XR if you're in the medical world, showed signs of streaking. The doctor's office could not explain what this could be or even if it is serious or not.

Thanks to the internet, I stayed up reading until 2:30am a couple of nights ago reading everything I could on "streaking" and interstitial prominence. I read doctor's notes mostly, which are the most helpful of all.

Next week is the "big" test. So big in fact, the doctor has to pass it by the insurance company first. The Chest CT w/ Contr. Sounds like I can't finish my words, but that's what the requisition form says.

I can honestly say, both my husband and I are scared inside. He worked in a leather mill for over 3 years. He has been a pack a day smoker since he was 16. Even though he only smokes outdoors, he'll still run out there 20 times a day, 10 actually as he smokes 2 at a time.

The funny thing is, he went to the doctor initially because he had a persistent cough, something he gets once a year, but which lasts for a long time. I forced him to go as he believes if you don't see it, it isn't there. Then he went and did something actually surprising, He decided for the first time in a long time that he was ready to quit smoking. He chose a date and wanted to tell the doctor about it. For non-smokers you may be thinking "big deal", but for the hardcore smokers, he's right where you are ... completely addicted. So, this was a happy shock for me.

Still, he's worried about having his finances in order, the home renovations done, a solid financial plan in place, the new truck payment ... leaving me and the children in the lurch. While I'm worried about not having him around for my golden years, not seeing him do the father/daughter dance at her wedding, the first time he has a drink with my son from the aged bottle of Glenlivet he's been keeping just for that occasion.

When you've been with someone since you were a child, how can you live without them for the rest of your life? It seems we've never really been without each other and although I remember life before him, it seems he was still always there ... just in the background. We swam at the same community pool together, always had lockers side-by-side, but I was oblivious to the cow eyes he was making at me.

Lastnight while laying in bed, we began discussing dreams. John's dream was to become a working musician or to teach music or be involved in music somehow. Since we married so young, he never persued it. I told him he should have taken a few years to give it a shot, but he said, "We wouldn't have made it."

I was like, "So? YOU could have had your dream. No regrets. Different wife. Love. Whatever ... you would have been fine."

He said, "YOU were my dream and once I had you, I didn't need anything else ... just to take care of you. You're my other half, I don't think you get that sometimes."

And now that he may be seriously ill, heck, I don't really know what's wrong with him although I'm hoping it is scar tissue from all the coughing long ago. "Hoping for scar tissue" ... yes, I know that sounds bizarre, but every time he speaks to me about loving me or death, I think, "Are these the words I'll be hearing over and over in my head if I should lose him?" I just don't know and frankly, I wish the hospital and doctor wouldn't make us wait an additional week before giving us any clue.

Most of all, I just want everything to be all right or at the very least, fixable.
Saturday, August 13, 2005
All The Flowers That You Planted, Mama, In the Backyard ... All Died When You Went Away.
This is a short service announcement.


I'm weeding the primrose path. I took out the names of blogs who didn't link back to me. Selfish? Perhaps, but logical. The people left are the people coming here daily and who I'd like to give more time to reading. Although, I always click on names of any visitors and go to their blogs. Oh well, we'll see if I save time or not.


Also, husband turns 36 today. He wants southern fried cluck cluck for dinner with dumplings. Blech. I have menstrual cramps and it's 90 degrees outside, but that skinny little dude deserves it. I'm going to pop half a bottle of Advil, turn up the A/C and get rocking around here so things will be nice, shiny, and decorated by the time he returns from work.

Have a super weekend, everyone!
Friday, August 12, 2005
When You're Alone and Life is Making You Lonely, You Can Always Go ... Downtown.
I was raised in a town where burning hair off of cow's backs was their claim to fame. Gloversville. Glove capital of the world. The Glove City. We supplied most of the gloves for the world AND most of the leather for the military. It was a booming place. Our Main Street was hopping. The trains were moving ... bringing cow hides in, shipping leather and its products out.

Leather making. No matter which job is yours, it's all labor-intensive and dangerous. You have the stripping (skins dipped in barrels with hair to come out of barrel without hair), the vaccing (sucking out the chemicals on a big flat press), the dyeing (self-explanatory, more chemicals, different color), and more. All of these jobs involve toxic chemicals. The skins are heavy ... much heavier when wet. These were the best jobs around though. In order to entice men to do labor the body wasn't meant to do, you pay much more than minimum wage. Sometimes triple. Not anyone could work in a mill. You actually competed for your job.

When my husband needed a good-paying job at 18, my dad got him a job in the mill. John, my husband, still says he learned his work ethic there and the sense that work is supposed to be hard. When my sister's husband needed a good-paying job, again, my dad got him a job in the mill. Although my brother-in-law has never liked to work so complained of a back problem straight away, which got him a job using forklift instead. The only guy to leave the mill not needing a shower is the forklift guy. The others were black.

It was a family affair starting with my grandfather. He retired from a leather mill. His sons, my uncles, retired from mill as well. My own father again, retired from a leather mill. The ladies were not to be left out. My grandmothers sewed gloves as did my mother. The money wasn't big for sewing gloves because it was piece rate work. The more gloves you sew, the more money you make, but the piece rate is so low, you're never making too much.


Still, if you could stand the smell of burning cow flesh and hair plus all those chemicals, you would have been one of the hundreds flooding the Main Street daily. In "Remember When" photos, our small town Main Street always looks like it was having a daily parade. Women fussing with their window boxes two stories up, men chatting on the corner, people shopping up and down the block.

Then the mills closed. Violation after violation, including many incidents of testicular cancer (from the machines and dyes being waist height) and lung cancer (from the fumes) forced the mills to move into third world nations. You can get away with infecting people who will take 30 cents an hour for their work with deadly chemicals, I guess. You can also, instead of making your machines safe and modernized, just move on and leave the town to shut down with it.

Main Street now has only a few residents. I couldn't even get the demonstration picture of this to show up, but it's there in link form. I guess it's that bad. 80% of the shops are boarded up. The trains stopped long ago and the tracks were paved over for a Rail Trail (bike path), which in Gloversville's section is a hotspot for drinking, drugs, and a few attacks to those actually wanting to ride.

Argersinger's, the big department store in town ... gone. Dunday's, the clothing store for the dapper man ... gone. The Star Theater closed, then reopened within the last two decades by a group committed to theater. Unfortunately though, this theater doesn't actually see big films anymore and struggles with what people are willing to pay to see local talent.


I remember downtown and the lights. I remember my mother walking beside me, grasping my hand tightly to keep me safe from all the people and all the traffic. I remember doing all our school shopping on Main Street and the excitement of it all. Maybe we'd get a burger at the local Woolworth's ... also gone.

Even though I don't live in Gloversville anymore, I still remember when it was bigger and better. It reflected a different way of life. I remember when the adults instead of the youth ran the show. I remember wanting to drive there instead of not wanting to see it at all, like now. Frankly, it's just a depressing place.

I miss the days of Main Street though. I probably always will. Strip malls and super marts have taken over and become a new way of life. The personalization of a corner store has been replaced by the buying in bulk mega-marts. Nicely dressed employees (who were normally the owners) made way to sloppy uniformed employees. Courtesy was replaced by disdain. It's different when the business is yours and you actually WANT people to return, I guess.


Somehow I can't imagine my pre-teen daughter all grown up, in her 30's, sitting at the keyboard and waxing nostalgiac about the mall, but hey, it could happen. Maybe if we're all living underground by then and worrying more about survival than Starbuck's.
Thursday, August 11, 2005
You're Given a Flower, But I Guess There's Just No Pleasing You, Your Lip Tastes Sour, But You Think That it's Just Me Teasing You.
I was seriously pondering the first time I saw a live concert as a teenager lastnight. I couldn't remember the exact age. I'm not sure if it was Huey Lewis and the News or Rod Stewart, but I know it was in Saratoga (NY), I know I wasn't a true fan of either as well. Didn't matter though. Concerts have a way of making you either like the band or at least have a good time. Heck, I even bought a Huey Lewis t-shirt. Strange, but true.


The bands I'm most "proud" of seeing are The Who, Everclear, and David Lee Roth with Steve Vai(although I wish it was Van Halen, not Van Hagar). Steve played the infamous Eruption solo while yawning and rolling his eyes. David pointed and laughed. Oh, it was a fantastic display. =) I'm ashamed to say I loved Lisa Lisa and the Cult Jam and the B-52's. Okay, not ashamed, but embarrassed. They just don't sound "cool" at all.

And why this tour through concerts past?


My son's first concert was B.B. King with his dad about a month ago or so, maybe a little more. He's only 11 so didn't really "get it" and decided he liked BB's drummer better. Hahahaha! In October, I've already bought tickets for all of us to see The White Stripes in Boston at the old Boston Theater and Opera House. Both my children love the White Stripes as do we, their parents. My son plays drums, my daughter plays guitar. A reverse stripes. My husband is hoping this inspires them to work harder as a duo. I just hope we make it through happy and unscathed. Oh, priorities.

So, what was your first concert? Your best concert? Have you given up live shows all together? I feel it's time so will probably make this one my last.

*****************************************************************************


In one-on-one news, I still have not made it to the library, Mr. Schprock. I was going to use my own library, but if I haven't read every book, my husband has suggested to read the few others there. Right now I'm reading three books of John Irving's, but I like the idea of your assignment and want to complete it.

I also have the list of the other books suggested to me by others here, which is a very good thing.

As for Trevor, I hope you'll bury the hatchet soon. There's a saying from Shakespeare that goes something like, "A person loves the meat in his youth that he cannot stomach in old age." Pissing matches are that meat to me. Although I didn't agree with your comments, we are strangers and I don't know who or what you really are by your blog. Your post just sparked a post for me concerning a subject I am admittedly passionate about and know about firsthand. The wonderful thing about blogdom, no one is ever 100% right because they are usually writing about opinions or observations, but hopefully we're reading each other to be entertained more than anything else ... or to kill boredom, whatever. This isn't a serious venue for me and I do not spend time disliking people in cyberspace. There's too much to do off the pc. This part is supposed to be fun and light-hearted. I hope you'll agree.
Wednesday, August 10, 2005
Judge yourself if you feel the need, Just let me known to be ... In search of the truth myself.
Trevor's post really got me thinking about the ideas the skinny folk in society have about chunky, heavy, fat, or obese people.


If you're seriously thin and don't have to work at it like my own husband who's built like a Greek statue and doesn't believe in working out, you have NO idea of what being heavy is like at all. NO, NONE, NADA, ZIP. You may think your vast knowledge also covers this subject, but you are wrong. Yet, if you are also like my husband, you believe you know most everything just because it popped into your head.

I believe this is true for many people. Skinny people preaching this babble about fat people is insane to me. What's more insane? The heavy people of the world will BELIEVE it because my God, supermodels can't be wrong, can they? I mean, they're the great thinkers of our time!

I am here to say call bullshit! It isn't true! It's what the billion dollar a year diet and make up and fashion corporations wants you to believe. Thin people have it better than you. I was thin for more than 3/4 of my life and I'm here to say, I was more miserable then than now. True!

Not everyone cares about heart disease, diabetes, or clotted arteries. In fact, neither do the people putting down heavy people, BUT it becomes more socially acceptable if you put the health spin on it.

Like, "MY God, she's fat. She's huge. Oh, blech," then remembering you want others to totally stampede with you, you add, "I mean, she could have a heart attack any day now." Really? What the fuck do you care if a total stranger has a heart attack? Will it rock your world? I doubt it. If you speak this way, it's YOUR hang up that you put on someone who is overweight. You're projecting your own insecurities onto someone who believe it or not, may be totally secure.


I have had a 24-inch waist, but growing up with overweight parents, grandparents, and some others made me understand how backwards society's thinking is about people with weight "problems" (to you, not them).

My father worked in a manual labor job (leather mill, you can't get much harder). He had coffee for breakfast, one sandwich for lunch, a big dinner, and always a snack before bed. Nothing huge, but around 7pm, just an apple with salt, a piece of pie ... the dessert he never ate with dinner. After work, he worked until dinnertime in the yard ... fixing cars, mowing, you name it. After dinner, he went back out until around 7-7:30pm. He was a mover and he was at least 250 pounds.

His cholesterol was always below 120. Every check-up, every year.


My mother worked full-time in a nursing home nights. Mornings she slept until noon so she could begin all her chores. Her cleaning, her laundry, her errands, then dinner. She went back to bed at 5pm. She didn't eat breakfast or lunch. She only picked at dinner, but packed a box of crackers and a soda for work every night. She ran about 190. Again, she had no desire to run races, be thin, or the rest of it. As a matter-of-fact, the one time I asked her if the weight bothered her she said, "Why the hell should it? I'm me."

My father did not have a fat fetish. He married my mother when she very thin. My mother did NOT have a fat fetish. My dad was about 200 when they met and he was the big sensation in my town. He had enough women in his daily planner to make full-fledged harems look weak. These women didn't have fat fetishes either. Most men don't truly have pinache. This is why most single men troll for women, but not my dad. Flies to honey.

My parents aged, they put on weight, they still love each other. They worked together to build a good life. An honest life with a little money put aside for a rainy day. Lazy was a word not used in their personal dictionaries.

So, I am here to set the record straight. If you're thin naturally or not eating carbs this week to stay that way, there are those of us who are overweight that have actual partners who love us. Not because of fat fetishes, but because when you love someone, love them down deep, you love ALL of them.

You can't really convey to others how he helped you through childbirth, how you helped him through depression, how you both cried when your daughter took her first step. You can't explain the safety of having the boy you knew years ago being the man you lay down with you every night. Still protecting you. Still telling you, "You're my girl ... the only one for me."

You can write it out like this, but unless you've been with someone for almost two decades or longer of your life, they're just words and they're falling on deaf ears. True commitment means true love, true acceptance.

Being genetically thin doesn't make you a better person ... it just makes you lucky. Having to fight to keep weight off makes you get to know yourself. Why do you want it off? Vanity? Function? If you don't want it off, is it okay to live the life you have now without caring about others judging you? In our society, there are a lot of standards to live up to and what if you just want to create your own?

Would my husband like me to be underweight again? Oh, probably. I won't say I know he wouldn't, but would he leave me, the safety of his best friend and devoted lover to go with some bubblehead who fit the body requirements? Not on your life.

Just as I wouldn't do the same to find a younger, more energetic, happier bloke. I have my curmudgeon ... and I'll keep him as long as the gods allow.

I'm passionate about this because I've seen it my whole life and am now dealing with it. When people speak on this subject who have absolutely no idea of what the truth is, I want to scream. I blog instead.

It's like me telling a black person his white girlfriend only wants him because of jungle fever. It's that retarded and I'm just sorry to whomever I've offended during my personal rant, but for me ... it had to be said so I could let it go.


Now I can head to the shower, begin painting, take the kids to the dentist, dig out the new back wall ledge, weed ... oh you know, all those things heavy people don't actually do. Nah, actually I'm just eating on the couch and watching my family members on Jerry Springer or something. Yeah, that's the ticket!